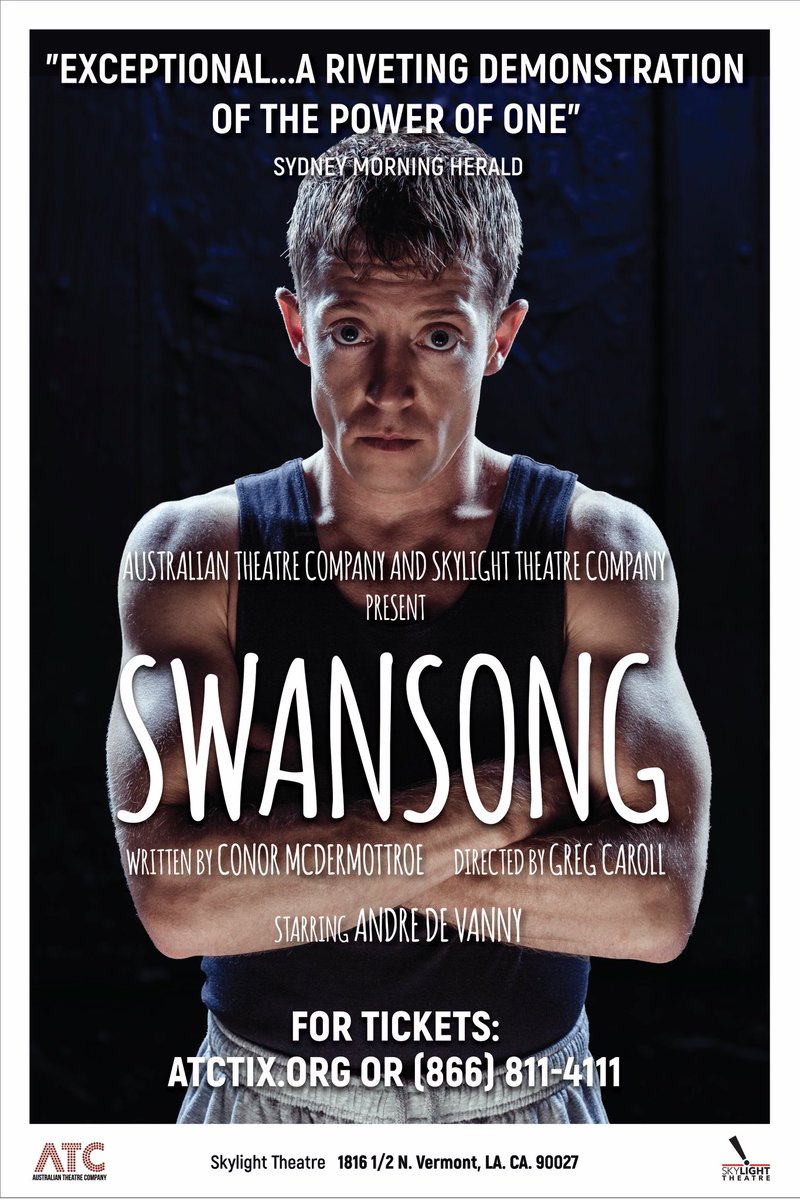 Produced by Australian Theatre Company and Skylight Theatre Company
Friday 7th September – Sunday 7th October 2018
Skylight Theatre, Los Angeles
Preview Friday 7th September
Opens Saturday 8th September
Closes Sunday 7th October
Written by Conor McDermottroe
Directed by Greg Carroll
Conceived by Greg Carroll & André de Vanny
Lighting Designer Jared A. Sayeg
Production Stage Manager Christopher Hoffman
Photography Robert Catto
Publicist Judith Borne
Cast André de Vanny
Pulled from the streets of 1960's Ireland, this gritty monodrama tells the story of Austin "Occi" Byrne, abused and isolated, violent and vulnerable, and searching for redemption. Directed by Melbourne Fringe Co-Founder, Greg Carroll, this is theatre that doesn't settle for easy answers.
A SEARING PERFORMANCE NOT TO BE MISSED
Experience Australia's André de Vanny, Best Actor Green Room Awards, reprising his tour-de-force performance in Conor McDermottroe's award-winning Swansong.
"Swansong is a mighty tour de force featuring an indisputable talent and his boundless energy and commitment. What de Vanny brings to the stage is faultlessly executed."
– Australian Theatre
"Impeccably delivered by André de Vanny, going from strength to strength with a dazzling energy that radiates throughout the entire work, you won't be able to look away."
– Upstaged Reviews
"In a stand out year for the one-actor show, André de Vanny (Swansong) provides us with a riveting demonstration of the power of one."
– Sydney Morning Herald
Skylight Theatre Company (Co-Producer) Skylight Theatre Company won three Los Angeles Drama Critics Circle Awards this year, including the award for Best Production for their West Coast Premiere staging of Rotterdam by Jon Brittain. Additional LADCC awards for Rotterdam were for Writing and Lead Actress, garnering the most nominations by a single production in 2018, and sharing that title with three other productions including Hamilton. Skylight Theatre Company discovers, develops and produces new, compelling works that expand mainstream theatre while nurturing and educating the people who create them. Recognized as a "powerhouse" of new play development by Dramatist Magazine, works premiering at the Skylight have gone on to be performed nationally and internationally; Church & State by Jason Odell Williams made its Off-Broadway debut March 2017. A recipient of the prestigious Steinberg National Theatre Critics Citation (Dontrell, Who Kissed The Sea – Nathan Alan Davis), Skylight's resident PlayLAb writers have been recognized with productions nationwide, a national 2014 USA Ford Fellowship in Theater and Performance (Sigrid Gilmer), and locally as a winner in the 2015 Humanitas/CTG Playwriting Prize (Louisa Hill – Lord of the Underworld's Home for Unwed Mothers). Skylight won 4 Ovation Awards in 2014 for The Wrong Man and Pray To Ball (the most of any intimate theatre in LA), after seeing three of their original productions, Years To The Day, Open House and Sexsting, named to LA Weekly's 2013 Top Ten list. From the beginning Skylight made news, in 2011, their first year dedicated to developing new plays, Hermetically Sealed made the LA Times annual Top Ten Plays, and Mad Women moved to New York's famed La MaMa. For more information, script submission policy and production history go to http://skylighttheatre.org

© 2018 AUSTRALIAN THEATRE COMPANY